Thank you for supporting Hike for healing! This campaign has closed, but you can still donate to support the Monument Quilt here.

Join us on November 4, 2018 for the third annual Hike for Healing -- a walk or hike to support survivors of sexual assault and domestic violence on their lifelong healing journey.
Organized by FORCE: Upsetting Rape Culture, funds raised will support the culminating display of the Monument Quilt on the National Mall in June 2019. Donate today to help us raise $50,000 by November 4.
**If you have a hard time making your donation, first of all, we apologize! You can call Hannah at 336-404-0959 to make your donation by phone. Thank you so much for being part of Hike for Healing.**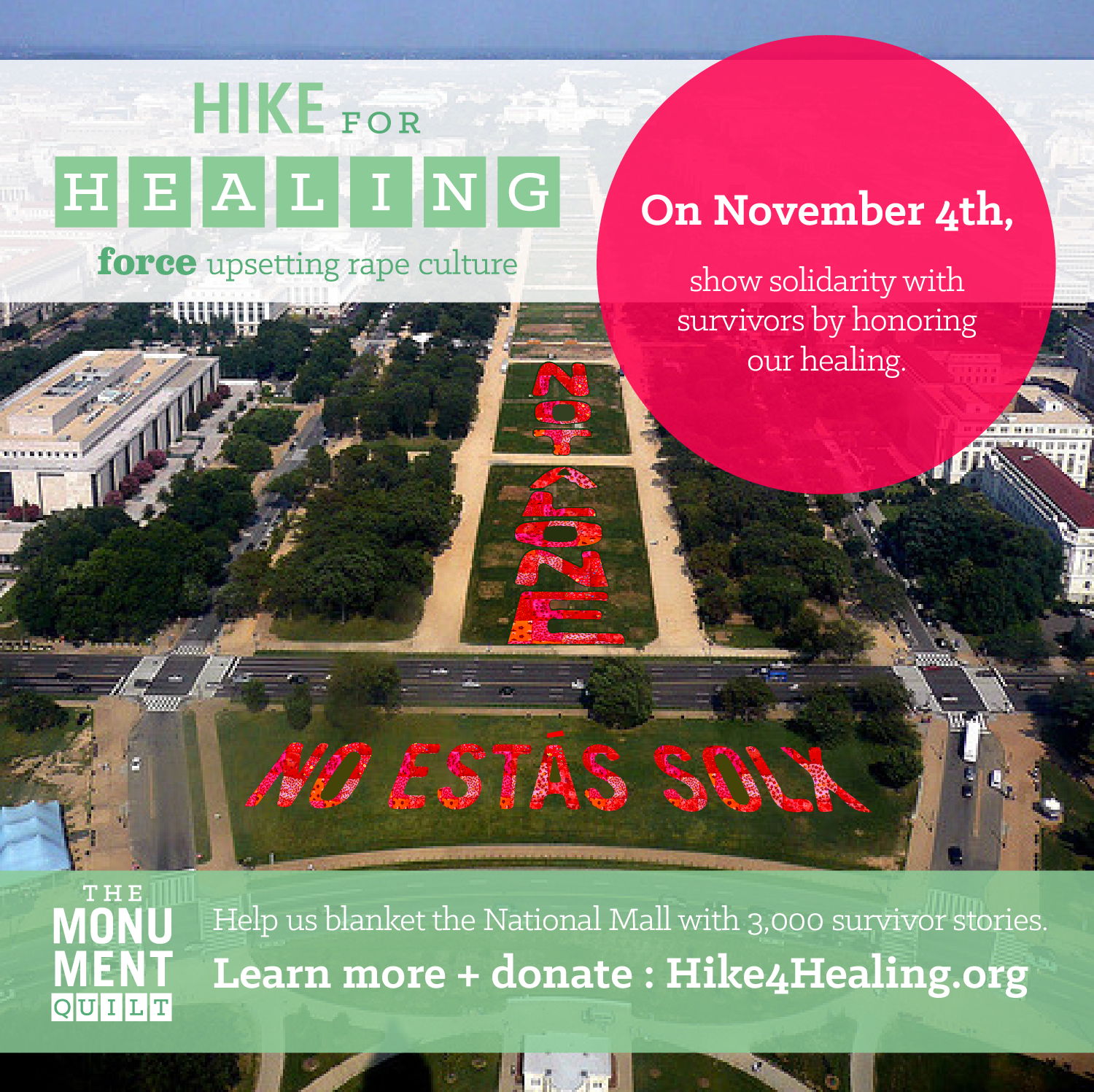 There are 3 ways to support FORCE through Hike for Healing.
Join a team by donating to their fundraiser. We suggest $50 per person, but give any amount that you can.
Make a team by clicking the blue "Fundraise with us" button. Here is a guide to organize your hike, for fundraising, and for social media.
Donate any amount to the general fund to help us reach our goal!
WHAT YOUR DONATION MEANS
The Monument Quilt has been displayed 46 times in 35 cities and towns across the US and in Mexico. Hundreds of people have been impacted by this project as it helps them heal, name their own experience of abuse, learn how to be a better support system for a survivor, and so much more.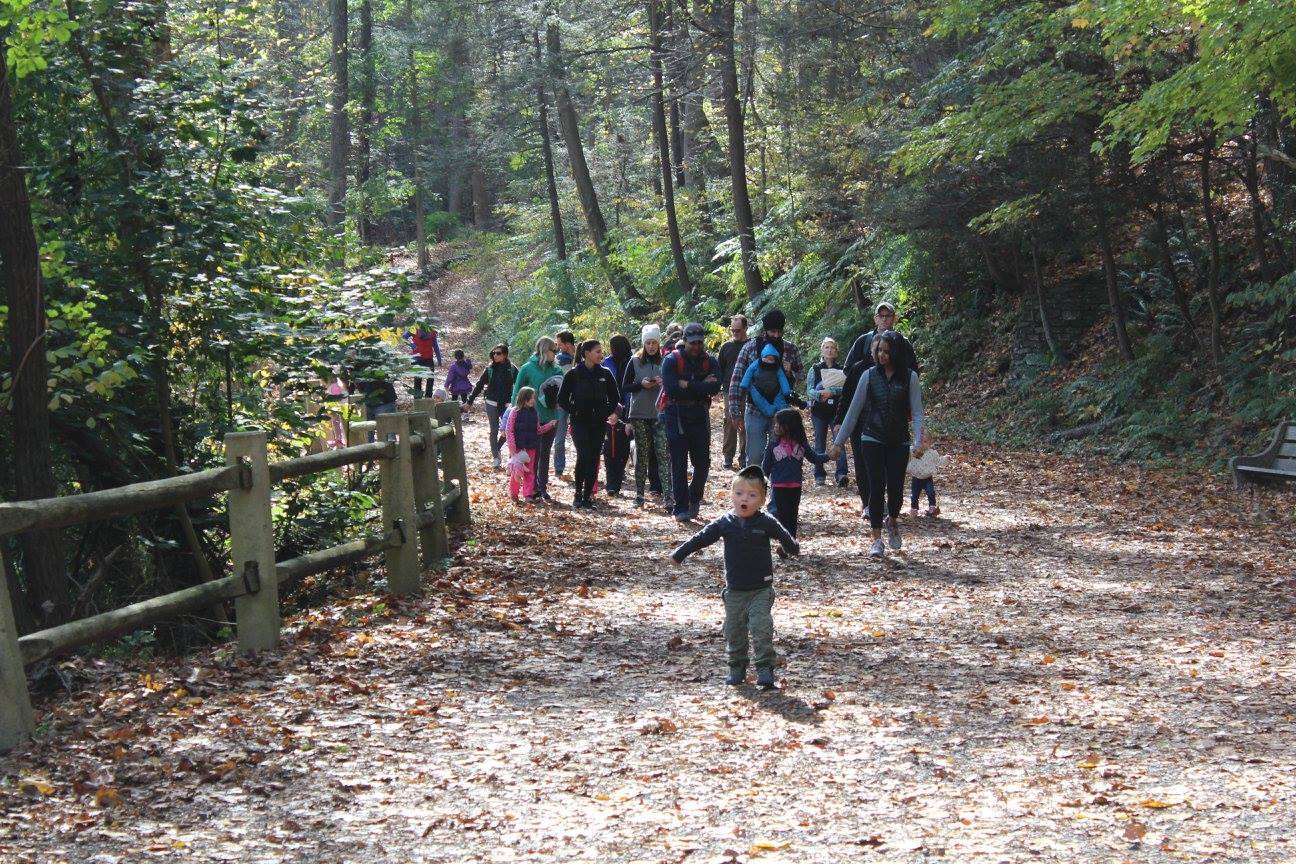 A Hike for Healing team in Paoli, PA, in 2016
In June 2019, a culminating display in DC will bring together all of the survivors and allies who have been a part of this project over the past 4 years. Here's what the funds raised will support.
$50 funds the addition of one Monument Quilt square to the culminating display. There will be about 3,000 stories from survivors on view at the event.
$100 funds one hour of sign language interpretation during our program of speaking and performance, creating a more accessible space for survivors without hearing.
$200 funds banners with statements of affirmation and support for survivors and victims of abuse, to be on view throughout the Monument Quilt display.
$300 funds one tent, table and set of chairs for an intentional healing space for survivors to gather and heal together with affinity groups during the event.
$500 funds materials for one community arts space at the Monument Quilt display, where visitors can process their experience of witnessing survivor's stories and healing in community.
$1,000 funds one healing practitioner to provide support to visitors to the National Mall Monument Quilt display (We will be working with about 12 healers over the 3 days event).
$2,500 funds interactive tablets at the final event, where people can explore the Quilt and find their square on the National Mall via the Monument Quilt app.
$5,000 funds buses for 200 people from our hometown, Baltimore, to attend the display in our nation's capital.
$10,000 funds performances by poets and musicians throughout the 3-day event
$20,000 funds the digital archiving of the Monument Quilt squares and the many leaders involved in this project, through an interactive app.
ORGANIZE YOUR HIKE
We will be keeping you updated with the growing list of locations here on the site. Join one, plan a hike/walk, or do a healing activity on your own! Email UpsettingRapeCulture@gmail.com to tell us about your meet-up so that we can share.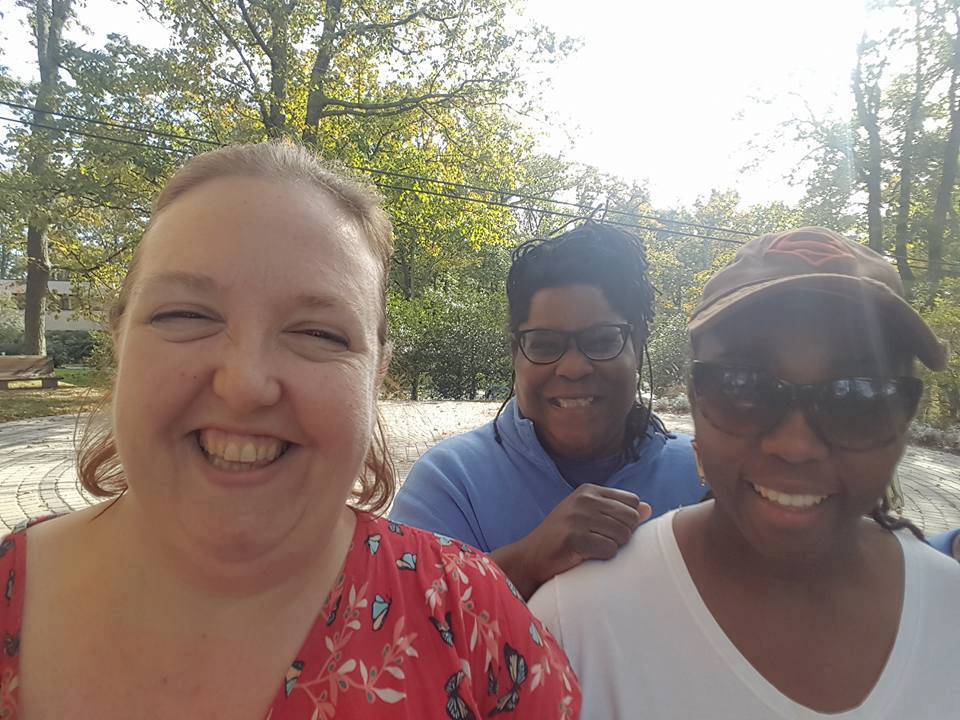 Kalima, Francine and Kate after their healing meditation for 2017 Hike for Healing
ACCESSIBILITY
We encourage everyone to choose a walk or hike of a distance and difficulty that fits you. If you need an alternative to walking and/or being outdoors, choose an activity that manifests self care and healing for survivors. Some suggestions include (are not limited to) relaxing outside, star-gazing, meditation, painting a picture, or doing stretching exercises.
ABOUT THE MONUMENT QUILT
The Monument Quilt
is an on-going collection of stories from survivors of rape and abuse. Written, stitched, and painted onto red fabric, our stories are displayed in city and town centers to create and demand public space to heal. In the Quilt's final display, it will blanket the National Mall to spell "NOT ALONE." The Monument Quilt is a project of FORCE: Upsetting Rape Culture, a survivor led artist collective. FORCE is fiscally sponsored by Strong City Baltimore, a 501c3. All donations are tax-deductible.
The Monument Quilt has been displayed 46 times in 35 cities and towns across the US and in Mexico.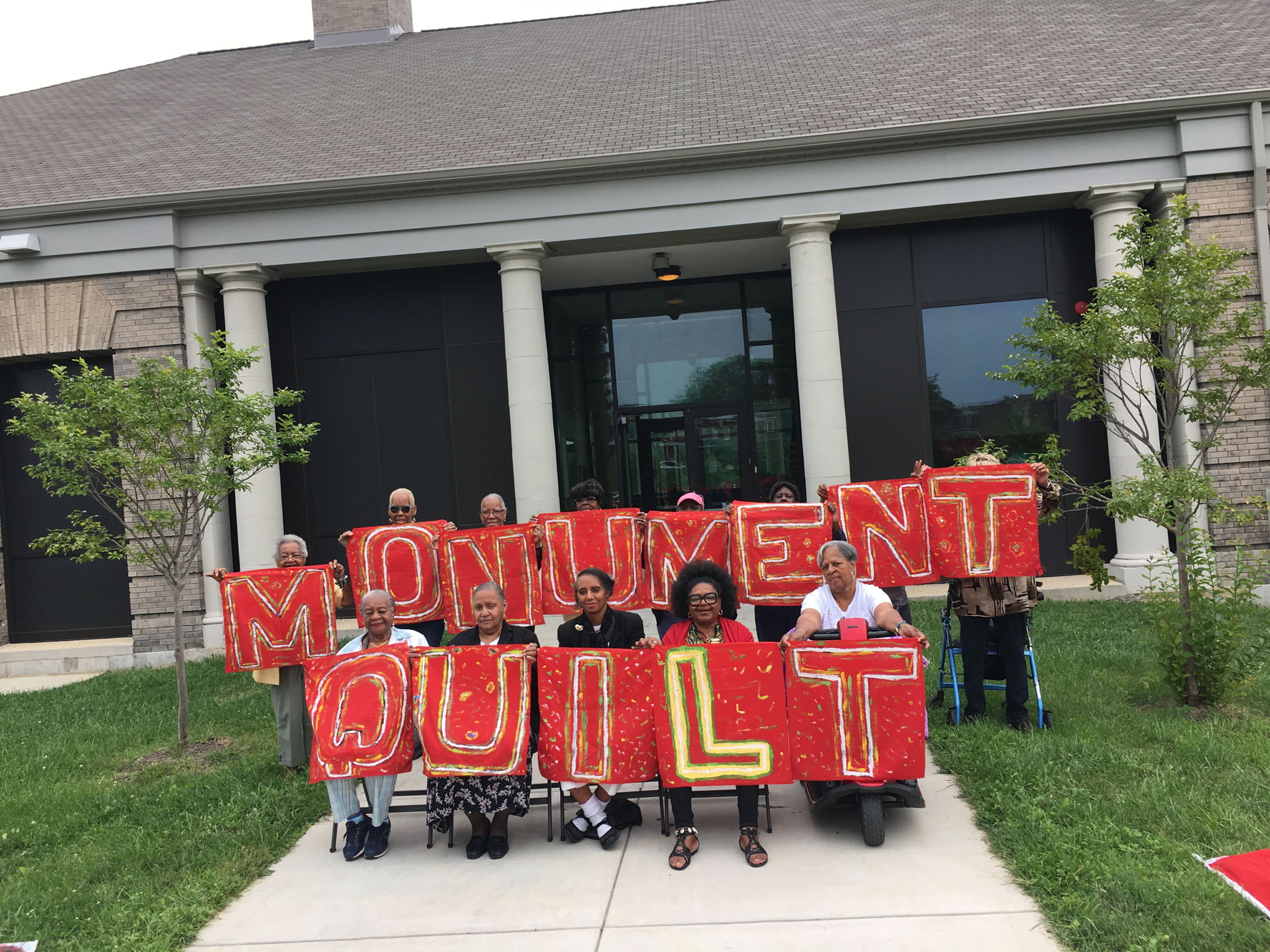 Portraits of elders in Baltimore who created Monument Quilt squares over the summer of 2017, led by Gloria Garrett.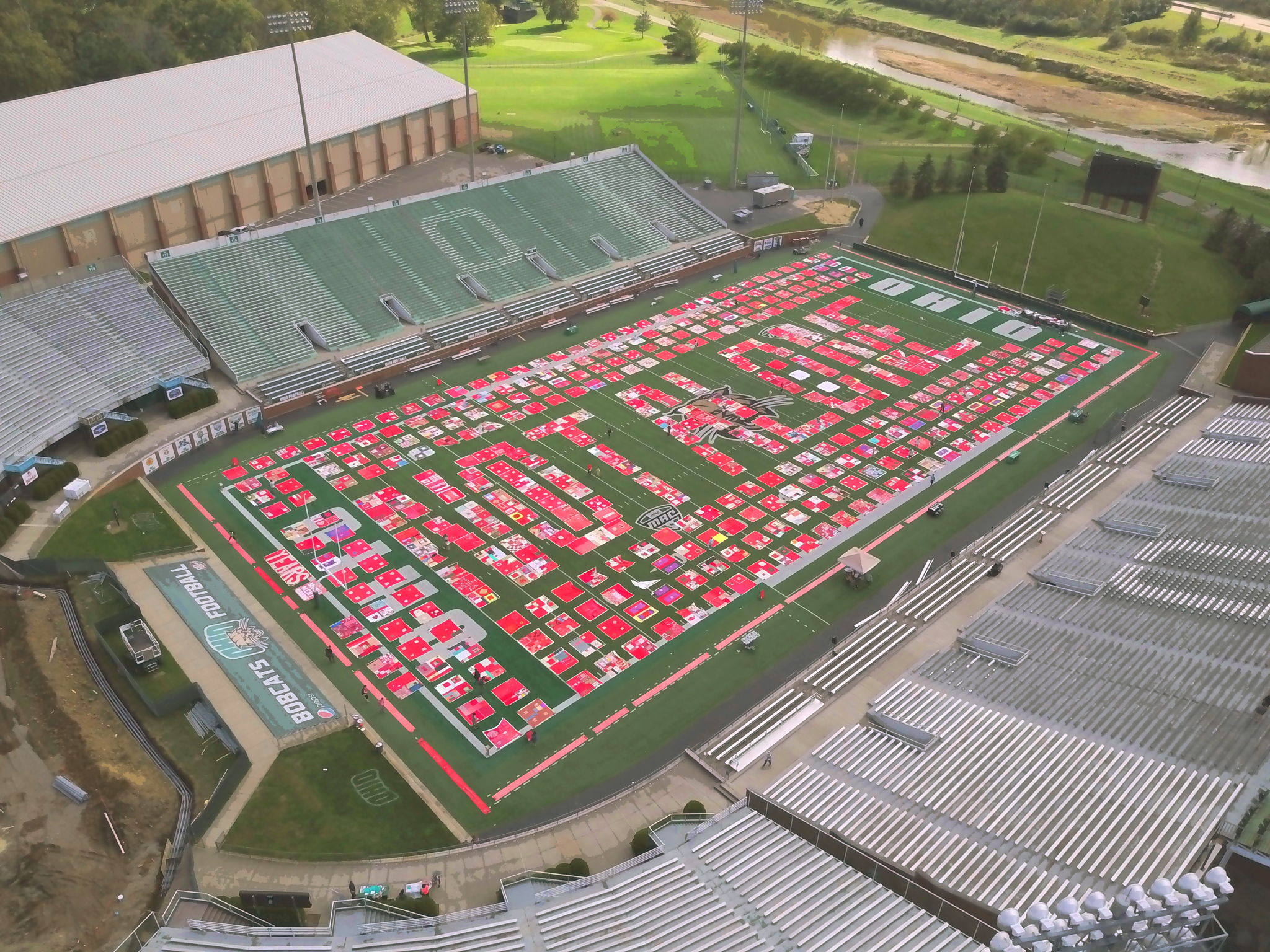 Here is a photo of the largest Monument Quilt display to date, at Ohio University, October 2017.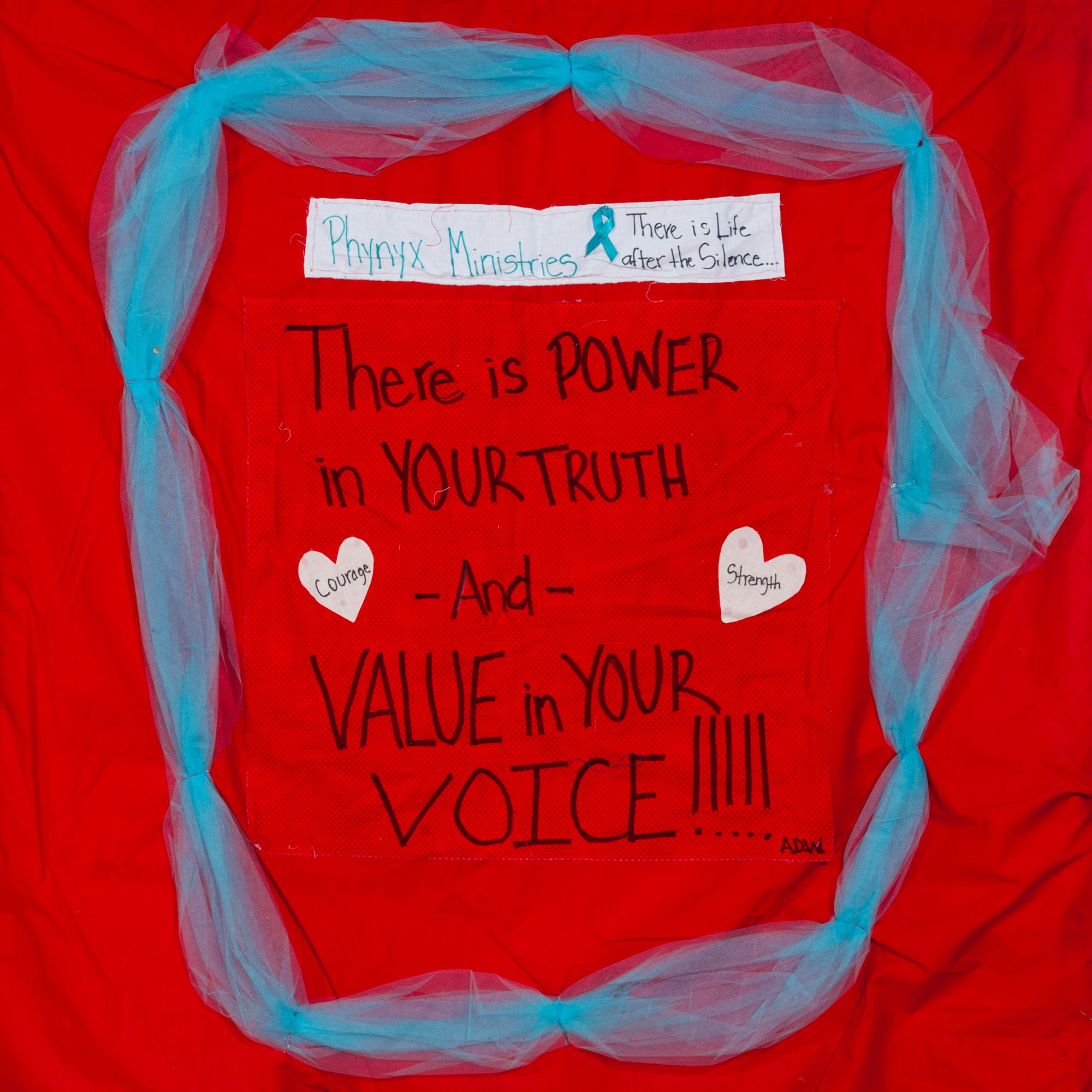 A Monument Quilt square created by the founder of Phynyx Ministries in Baltimore.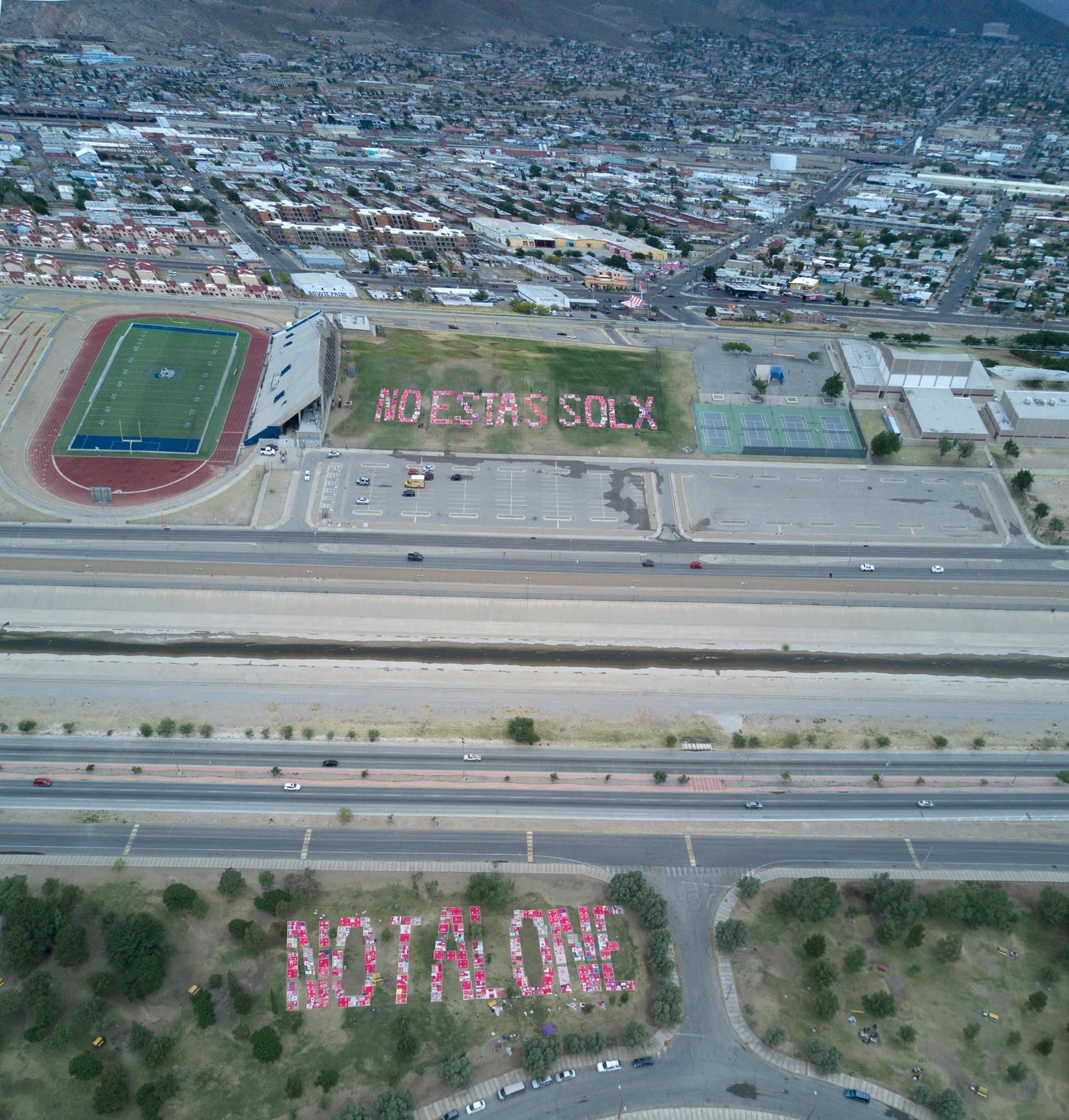 The Monument Quilt across the US/Mexico border to protest Trump's 100th day in office, and immigration policy creating high rates of abuse.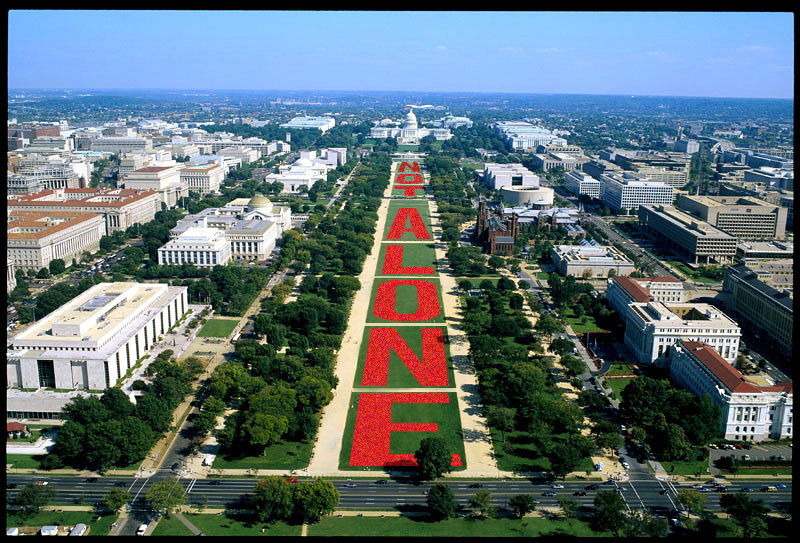 This campaign is supporting one more, culminating display in our nation's capital! This is our vision for that upcoming event, slated for Spring 2019.