FORCE: Upsetting Rape Culture
was founded in 2010 by and for survivors as an art and activist collective dedicated to constructing a culture of consent. FORCE is an intersectional, LGBTQ focused, multicultural, pro-black and anti-white supremacist collective, who has done our deepest organizing work in Baltimore and Mexico City, and has planted seeds globally. With a focus on local organizing in our home bases, we strive for our visual imagery, language, resources, and organizing strategies to have a global impact in our efforts to end sexual and intimate partner violence by changing social attitudes and connecting these shifts to policy change.
FORCE's largest project to date is the
Monument Quilt,
a collection of stories from survivors of rape and abuse, written, painted and stitched onto red quilt squares. These stories came together to blanket highly public places, assembling each quilt to spell the words "Not Alone." May 31-June 2, 2019, it blanketed the National Mall.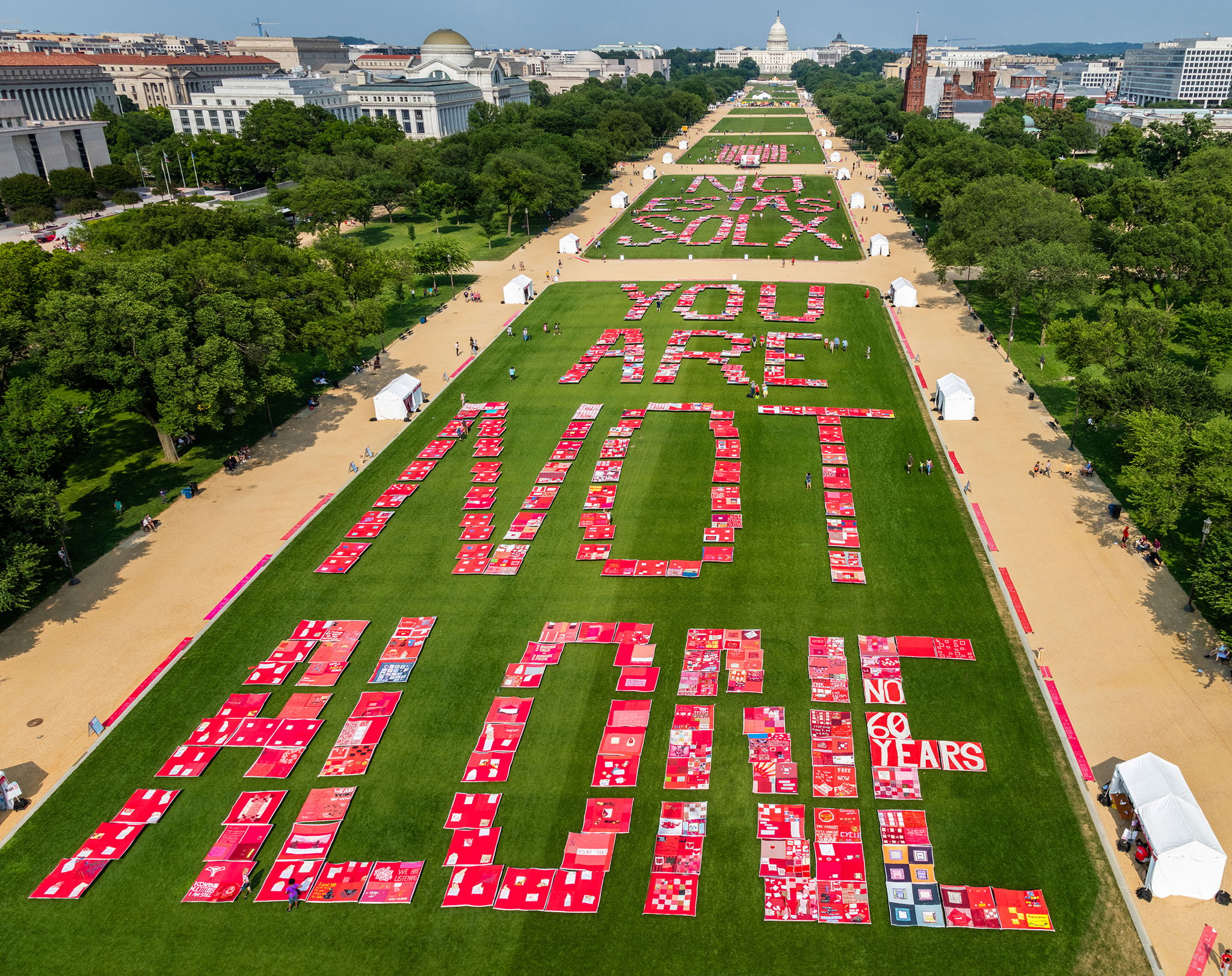 In Baltimore, FORCE is organizing with survivors through Gather Together, a survivor collective creating a community for support, healing and advocacy. We are also launching our second season of
Youth Voices for Consent
, a youth-led program for young people to discuss issues of power and consent while creating innovative consent culture campaigns through art and performance.
FORCE is fiscally sponsored by Strong City Baltimore, a 501(c)3. All donations are tax-deductible.
Donate via Credit Card or eCheck
FAQ
Is my donation and credit card info secure?
Yes, the security and confidentiality of your information is our highest priority. We will not sell, trade or share your personal information with anyone else, nor send donor mailings on behalf of other organizations, and we will only share personal information if you have given us specific permission to do so.
Is my donation tax deductible?
Yes, we are a fiscally sponsored project of Strong City Baltimore, which is a public 501c3 organization recognized by the IRS. Your donation is tax-deductible to the fullest extent permissible by law.
How do I know that my donation was made successfully?
You will receive an emailed receipt immediately after your donation is submitted and your credit card is processed. Your donation will also show up on your bank or card statement within 1-3 business days.
Do I get a receipt?
Yes, a receipt is sent to your email inbox once your donation is processed. Please be sure to keep a copy of your receipt for tax purposes. If you select a recurring donation, you will be sent an individual receipt each period when your donation is processed.
Is my donation private?
We will not share or sell a donor's personal information with anyone else, nor send donor mailings on behalf of other organizations.